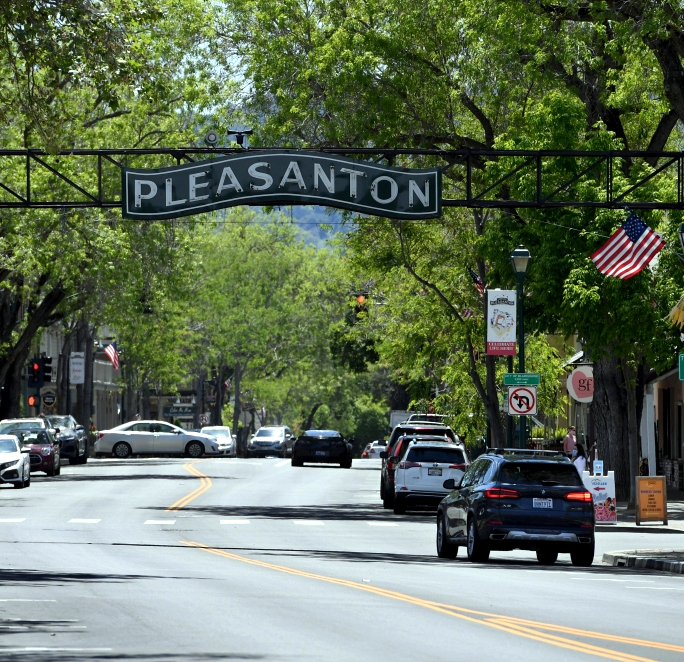 Event Registration now open!
The 91st General Conference of the California County Planning Commissioners' Association will be held at the Doubletree by Hilton Hotel Pleasanton at the Club, 7050 Johnson Drive, in Pleasanton, Alameda County, on October 14-15, 2022.
This promises to be another highly informative and enjoyable yearly event. Representatives from the City of Pleasanton and Alameda County's Board of Supervisors will be on hand on to welcome the attendees, and Friday's presenters will include Tim Byrd, Vice President and General Counsel for G3 Enterprises; Ron Kopf, Executive Director at Tuolumne County Business Council; Developer Mike Lemke; Melanie McCavour, Environmental Impact Assesment Professional, and CalPoly Humboldt Lecturer; John Salkowski, President and CFO of Blue Mountain Minerals; and Michael Washam, Associate Director of Tulare County Resource Management Agency.
Saturday's field trip will include tours of one of the largest aggregate facilities in Pleasanton, the Alameda County Fairgrounds, the Sunol Water Temple (currently closed to the public due to renovation and construction at the new Alameda Creek Watershed Center), and the Ruby Hill Winery in the Livermore Valley. Saturday evening closes the event with a banquet featuring keynote speaker,  former US Congress Representative George Radanovich.
Conference registration is now open, visit the link below to sign up.  Your registration fee of $179.00 includes the Friday sessions with continental breakfast and lunch, the Saturday Field trip with lunch, and the evening  Banquet.  The Doubletree has offered a very affordable room rate for CCPCA attendees, of $119.00 per night.  Room Reservations at the Doubletree are now available here, (or if you prefer to reserve by phone, mention Group Code "CAC."  Be aware however that this hotel rate is only available until September 29, so please don't delay.
DAILY SCHEDULE OF EVENT
Friday October 14, 2022
9:00 - 9:30 am

Welcome:
Jerry Morrow, 2022 CCPCA President
Karla Brown, Mayor City of Pleasanton
David Haubert, Superivisor Dist.1, Alameda County
David Goldemberg, Supervisior Dist 1, Tuolumne County
James Cooper, President/CEO Pleasanton Chamber of Commerce

9:30 - 10:15 am
Melanie McCavour,  Environmental Impact Assesment Professional, and CalPoly Humboldt Lecturer
10:15 - 10:30 am
Break
10:30 - 11:15 am
Mike Lemke, Developer and UC California Naturalist
11:15 - 11:30 am
Charlotte Hague. Past President of CCPCA (2011)
11:30 am - 1:00 pm
Lunch
1:00 - 1:45 pm
Tim Byrd, Vice President and General Counsel for G3 Enterprises, Inc.
1:45  - 2:30 pm
John Salkowski, President and CFO of Blue Mountain Minerals
2:30 - 2:45 pm
Break
2:45 - 3:30 pm
Michael Washam, Associate Director, Tulare County Resource Management Agency
Saturday October 14. 2022
8:30 am
Board Bus in front of Doubletree Hotel
9:00 - 10:30 am
Cemex Concrete and Aggregate Facility:  The Eliot Quarry
10:45 - 11:45 am
Alameda County Fairgrounds, Pleasanton
11:45 am - 1:15 pm
Lunch at the Fairgrounds picnic area, followed by the 
CCPCA 's Annual General Membership Meeting: --election of officers and executive committee for 2023.
1:30 - 2:30 pm
Sunol Water Temple, and the site of the new Alameda Creek Watershed Center, under construction.
2:45 - 4:00 pm
Ruby Hill Winery, Livermore Valley
4:30 pm
Return to Doubletree Hotel
6:00 pm
Social and Networking hour with No-Host Cocktails at the Doubletree's Triple Crown Room
7:00 pm
Farewell banquet, featuring keynote address by former US Congress Representative George Radanovich
Thank You!  We express heartfelt gratitude to our donors who have contributed to help support the 2022 CCPCA program:
Stanislaus Community Foundation: E&J Gallo Fund
Patrick Wallner, Wallner Plumbing
Blue Mountain Minerals
Brian Fitzgerald, Long Gulch Ranch
Stephen B Campbell