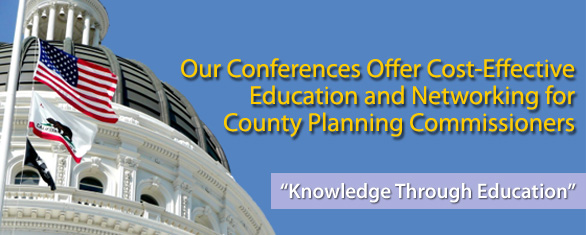 Each year the CCPCA presents an Annual General Conference.  A Conference may be held in any part of our wide and diverse state, offering highly informative presentations on some of the latest issues relevant to County Planning Commissioners.  Conferences typically will feature workshops and lectures, panel discussions, keynote speeches, social events, and field trips to local points of interest in the Conference area.
All Planning Commissioners within the state are invited to attend.  Spouses and guests may accompany attendees and participate in the social events and field trips.  Planning Directors, Planning Staff and others with a connection and interest in Planning are also invited.
Mark your calendar for this year's upcoming event, or review information from past years' events here:
92nd General Conference October 14-15, 2023 Tuolumne
at the Black Oak Casino Resort Hotel
91st General Conference October 14-15, 2022 Pleasanton
Aggregate Mining, Housing, and Agriculture
90th General Conference October 15-16, 2021 Eureka
Cannabis and Housing Planning: Successes and Chalenges
89th Annual General Conference Oct 25-26, 2019 Chico
Fire and Water: Critical Issues in Planning California's Future
88th Annual General Conference May 5-6, 2018  Redding
2018 CCPCA Conference at the Sundial Bridge in Shasta County
87th Annual General Conference May 5-6, 2017  Visalia
California's Water Dilemma: Planning and Resource Management in Tulare County
86th Annual General Conference Oct 15-16, 2016  Riverside
Planning in a Diverse Environment
85th Annual General Conference Oct 23-24, 2015 June Lake
Planning for People and Environment on California's Eastside
84th Annual General Conference Nov 7-8, 2014 Los Banos
Planning in California's Heartland
83rd Annual General Conference  Oct 11-12,2013 San Jose
Water and Innovative Land Use Planning
82nd Annual General Conference Oct. 12-13, 2012 Suisun City
What is Good Planning?
81st Annual General Conference Oct. 21-22, 2011 Sacramento
Natural Resources - Economic Growth in California
80th Annual General Conference Nov.5-6, 2010  Monterey Bay - Seaside
Planning for the 21st Century - Smart, Healthy & Sustainable
2010 Southern District Spring Conference May 1, 2010 Bakersfield
Kern County: Ground Zero for Green Energy