"Cannabis and Housing Planning:  Successes and Challenges"
 The long-awaited 90th General Conference of the CCPCA is scheduled for October 15-16, 2021, to be held at the historic Eagle House in downtown Eureka, Humboldt County.   As is customary, there will be scheduled speakers on a variety of topics, panel discussion, the Saturday field trip, and an evening banquet speaker program.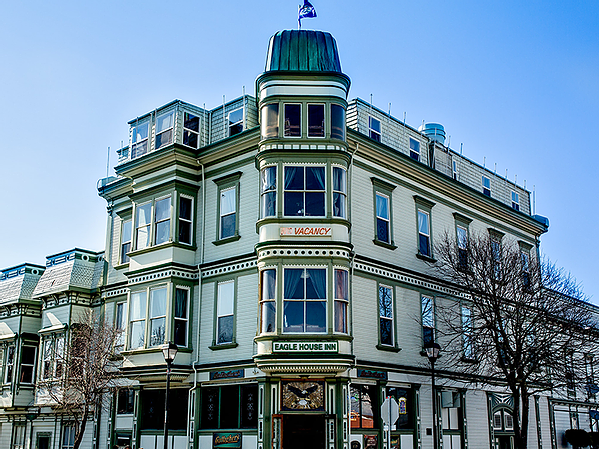 Further details will be available as they unfold.  Here are some of what we have planned so far:
Bob Brown, planning principal at SHN Consulting Engineers and North Coast Vice President of Programs at the San Francisco Bay Area chapter of the California Association of Environmental Professionals, with a focus on "Evaluating Effective Mitigation." 
Returning to CCPCA this year will be Michael Washam's well-received session: "So you're a Planning Commissioner, Now What?"  Michael is Associate Director of Tulare County's Resource Management Agency.  This is directed to new Commissioners, but also has been found to contain information and interaction highly valuable to those more experienced in planning decision making.
John Ford, Humboldt County's Director of Planning and Building will also be one of the key speakers on the program.
Many other speakers have been invited:  Check back here for updates as they unfold.
Registration is now open here!
Eureka Conference Lodging Options here
California County Planning Commissioners Association
90th Annual Conference - Hosted by Humboldt County
 "Cannabis Planning: Successes and Challenges"
 Friday and Saturday, October 15-16, 2021
 For nearly a century, the California County Planning Commissioners Association (CCPCA) has been hosting its general conference in counties all over California. These events provide a unique educational and networking opportunity for planning commissioners from around the state, as well as planning staff, local elected officials and others with an interest in planning.
 This year, for the first time, the CCPCA Conference comes to California's far north coast.
The 2021 conference will be hosted by Humboldt County and will take place in and around Eureka, on scenic Humboldt Bay.
 Friday's events will take place in the lovely and historic Eagle House Ballroom in Old Town Eureka. In the morning sessions, we will explore the many ways that legal cannabis has intersected with the planning and regulatory process. Humboldt County has been on the leading edge of that planning effort for five years, and our speakers and panelists reflect a diversity of perspectives on that experience.
 Friday afternoon, our sessions continue with a featured panel focused on the challenges of affordable housing, including tribal and developers' perspectives. We'll also have a CEQA update and an overview of the duties of a planning commissioner.
On Saturday, participants will travel by bus to several stops on an all-day field trip that features a tour of a legal cannabis farm, a visit to the city of Arcata's Cannabis Innovation Zone, and a look at both existing and planned affordable housing developments in the Eureka area. The tour will feature a lunchtime stop at the Samoa Cookhouse and our annual General Membership Meeting.   Saturday evening, the program concludes with a banquet dinner featuring a keynote speech by State Senator Mike McGuire. 
 Don't miss this exceptional opportunity to learn more about cannabis and housing planning in Humboldt County and beyond.
CCPCA conferences are open to County and City Planning Commissioners, planning directors and staff, and anyone interested in learning about best planning practices. Please bring a spouse or a guest, too!
DRAFT Conference Agenda/Itinerary:
Friday, October 15
 
Time
Topic
7:30am-1pm
Registration/Check-in desk open
8am
Breakfast
9am
Conference Opener / Welcome (Rex Bohn, Humboldt County 1st District Supervisor,
welcome remarks)
9:15am
 Session 1 - speaker
John Ford, Director of Planning & Building, Humboldt County
10am
Session 2 - speaker
Cal-Cannabis speaker (invited)
10:45am
 Break
11am
Session 3 - panel
Cannabis Panel, consisting of:
- John Ford, Humboldt County Planning Director
- (CalCannabis Speaker?)
- Rebecca Garwood, CDFW
- Scott Davies, cannabis grower & business owner
- (Thomas Mulder, cannabis grower & HumCo Planning Director- probable)
- (perhaps HSU faculty with hydrology/hydrogeology expertise)
12:30pm
Lunch
1:30pm
Session 4 - speaker
CEQA Update, Bob Brown
2:15pm
Session 5 - panel
Housing Panel, consisting of:
- Chris Dart, Danco Builders
- David Loya, City of Arcata
- Kurt Kramer (company name?)
- Peggy O'Neill and/or Nicole Sanger, Yurok Tribe Housing Authority
- (someone from City of Eureka Housing Authority)
3:15pm
Break
3:30pm
Session 6 - speaker
"Congratulations, You're a Planning Commissioner... Now What?"
Michael Washam, Tulare County RMA Associate Director
4:15pm
Question and Answer Session, Closing Remarks, Announcements
5:00pm
Dinner and evening out on your own - Explore Eureka's Old Town
Saturday, October 16
 
Time
Topic
8am
Breakfast on your own at hotel etc.
8:45am
Board bus for tour
9am
Tour of Arcata's Cannabis Innovation Zone
11:30am
Tour of some innovative subsidized housing development project.... Samoa Danco
project, other housing project, Nordic Aquaculture site
12:30pm
Lunch at historic Samoa Cookhouse and annual CCPCA General Membership Meeting
1:30pm
Cannabis Farm Tour
4:30pm
Return to Hotel / Extended Break before Banquet
6:00pm
Social Hour - Featuring Pop-up Bar in the Eagle House Ballroom
7:00pm
Banquet Dinner and Keynote Address
Mike McGuire, CA 2nd District State Senator, "The Great Redwood Trail"
9:00pm
Conference Ends, Closing Farewell