Recent news from our 85th year:

Highlight on Conservation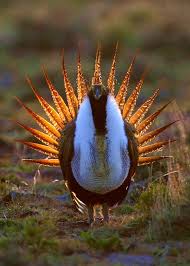 At our 2015 Annual Conference, Community Development Specialist Wendy Sugimura of Mono County presented a history of her work with local and regional partnerships in the preservation of endangered species.  This program had resulted, among other things, in a decision not to include the Sage Grouse in the National Endangered Species list.  Learn more about the Bi-State Preservation Program.  In March of 2016, Mono County was presented, jointly by the United States Forest Service and Bureau of Land Management, with the Conservation Leadership Partner of the Year Award.
Each year we examine some aspect of water management at our conferences.  This past year, the conference was held in Eastern California, where water does not flow to the Pacific Ocean, but rather into inland seas such as Mono Lake.  Another of these inland water bodies is Walker Lake, just over the state line in Nevada.  The very existence of this valuable resource has been threatened by water management practices in both states, and at our conference we heard from Ashley Downing of the National Fish and Wildlife Foundation, regarding the Walker Basin Restoration Program.
For listings and more details on these and other topics covered at our recent annual events, visit our conferences page.
Planning Links, Publications and More
CCPCA offers the following links and other material as educational resources. We do not make endorsements of any legislation, plan, project, candidate or company. In our listings of books, we may link to an online vendor such as Amazon, but not as an endorsement of Amazon, rather instead as a link for reviews and summaries of those books.
Organizations
The Association of Environmental Professionals (AEP) AEP is dedicated to the enhancement, maintenance and protection of the natural and human environment.
The California Chapter of the American Planning Association The California Chapter of the American Planning Association (CCAPA) is the professional organization for professional and citizen planners.
California State Association of Counties (CSAC) CSAC represents county government before the California Legislature, administrative agencies and the federal government. CSAC places a strong emphasis on educating the public about the value and need for county programs and services.
San Jose State University, Urban & Regional Planning Department: Credential in Real Estate Development.
Publications
Institute for Local Government has updated and expanded its set of public engagement resources available online without cost.  Take a few minutes to review their website, full of relevant material - Click Here.
Considerations for Planning Commissioners - CCPCA Past President Ron Sprague sums up what he's experienced in 14 years as a commissioner to provide insight into the dynamics and requirements of the appointment - Click Here
California Water Plan - CCPCA representatives have been involved in the public hearings and study group as the plan has developed. This is the state website - Click Here.
California Water Update Committee Report - CCPCA's representative to the Committee Ron Sprague reviews the status of the California Water Plan - Click Here.
UC Davis Extension, Land Use and Environmental Planning Program - Click Here.