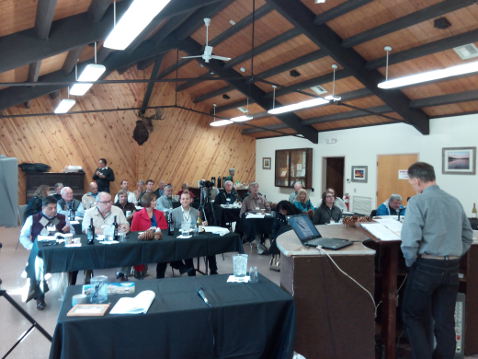 CCPCA 85th Annual Conference
October 23, 2015

"Welcome"
 
Mono County Supervisor Larry Johnston, District 1.
-Started his planning career in the Central Valley in 1973, assisting with both Short Term and Long Range Planning.
-Moved to Mammoth Lakes in 1989 and started a Planning, Environmental Review and Landscape Architecture firm, helping to create most of the exisiting trail system in Mammoth Lakes and receiving "Best Environmental Document" of the year from the Association of Enviromental Professionals in 1994.
-Re-joined public planning with Mono County in 1999.
-Was elected to the Board of Supervisors in 2010 and re-elected for his second term in 2014, He is the immediate past Chariman of the Board and has led the effort in having the County adopt its "Net Zero" energy use policy and championed implementation of the Property Assessed Clean Energy program.
-He also serves as a member and has been three time Chairman of the Local Transportation Commission.
-He is as a member of the Great Basin Unified Air Pollution Control District having served as Chariman and is currently Vice Chairman.
- Is a member and past Chairman of the Eastern Sierra Council of Governments.
- Is Mono County's appointed Director to the California State Association of Counties and serves on the Agriculture, Environmental and Natural Resources Policy Committee and the Housing Land Use and Transportation Policy Committee.
-Despises acronyms.
-And would prefer to be cycling, skiing, golfing, or climbing.
Return to 85th annual Conference Page