Fire and Water: Critical issues in planning for California's future
California County Planning Commissioners 89th Annual Conference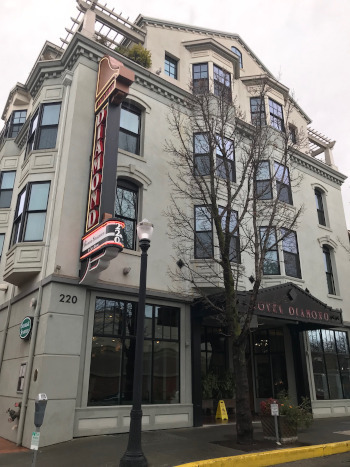 Chico, California -- Butte County
The 2019 annual conference will be held in Butte County, at downtown Chico's historic Hotel Diamond on Friday October 25, followed by the traditional Saturday Field Trip, and concluding with en evening banquet on the 26th.  As always, the conference will feature presentations by civic leaders, agency professionals, and planning experts on a variety of topics relevant to commissioners and planners throughout the state. 
This year marks the return of the "New Commissioner" training and discussion session, thanks to Tulare County assistant RMA director Mike Washam.
Friday, Oct. 25: Registration and Check-In at 8:00am.
Welcome from special guests including the Chico Downtown Business Association.

Dave Russell, CalFire Incident Commander. Discussion: What were the causal factors leading up to the perfect firestorm? – a unique re-telling of the firestorm that engulfed Paradise, Calif. on November 8, 2018. Lessons learned by the firefighters and CalFire.

Shane Vargas, CalFire captain, Durham resident and local area representative of CalFire's Land Use Program. Fire-Related Development Standards and Mitigation Strategies: Vargas works with planners, planning commissions, and local fire authorities.

Susan Hartman, Paradise Community Development Director. Success story: how some developments sustained less damage in the fire.

Tracy Katelman, executive director of the California Fire Safe Council. Highlight the role of FSC in organizing local Fire Safe Councils: How can local councils educate at-risk communities to work with county planning/ commissioners to insure homes, communities, and the environment is fire adapted.

More Conference Programs to be announced.
A buffet luncheon will be served by the Diamond Hotel included with the Friday sessions. Spouses and guests encouraged to attend and included with registration.
Friday evening Reception 6:00pm
Tres Hombres is a Chico Happy Hour institution located in the Bidwell Building, a Chico historic landmark. CCPCA hosted bar and appetizers. Easy walking distance from the Diamond Hotel.
Saturday, Oct.26 Field Trip, 9:00 am
Board charter bus (Diamond Hotel) 9 a.m. bound for Paradise. Guided Tour and discussion.
Lunch at the Table Top Restaurant in Oroville. Annual brief business meeting of CCPCA.
Tour Oroville Dam, Spillway and Visitor Center. Return to Diamond Hotel 4:30 p.m.
Saturday Evening Social Hour and Banquet, 5:30pm
CCPCA hosted social hour followed by the 89th annual conference CCPCA banquet at the Bidwell Mansion SHP on the campus of California State University, Chico.
Keynote speaker and farewell remarks by CCPCA Board members.
Plan to attend what promises to be an outstanding event.  Online Registration is now available here.  A block of rooms has been set aside Thursday through Saturday nights at the Hotel Diamond for Commissioners, Planners, Students and other Interested Parties who wish to attend.  Please call 866-993-3100 for reservations and mention that you will be attending the CCPCA conference.